Member News
2015 Veterans Day Mass
Each year at St. Patrick's Cathedral there is a Veterans Day Mass celebrated by the Archbishop of the Diocese of New York. This year's Mass was on 8 November 2015 and celebrated by His Eminence Cardinal Timothy Dolan. The US Navy was the specially honored service.

MG Evo Riguzzi (Ret), who is a member of our Association, and COL Mary Westmoreland (Ret), who is a former member of the 800th MP Brigade, represented the US Army at this year's Mass. General Riguzzi and Colonel Westmoreland led the procession of veterans up the central aisle. They also participated in offering the gifts from the congregation, the wine and water used during the Mass.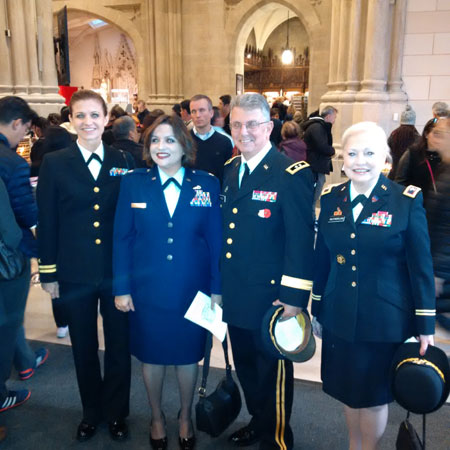 MG Evo Riguzzi (in center), COL Mary Westmoreland (on his left)
---
MG George E. Barker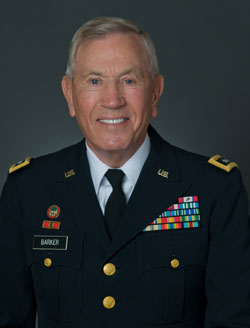 MG George E. Barker is enjoying his retirement with his wife, Dr. Pam Phillips, spending time in NYC and at their home in the Hudson Valley in upstate NY. He remains active on four non-profit boards. His two principal projects are a Veterans Memorial Park which he spearheaded in his hometown of Rector, Arkansas, and serving as Chairman of the Arkansas State University Center for America's Wounded Veterans.

The recently dedicated Veterans Memorial Park is complete with nine flagpoles, a six-foot bronze statue of a WWII American soldier, and local granite boulders lining the walkway to the pavilion.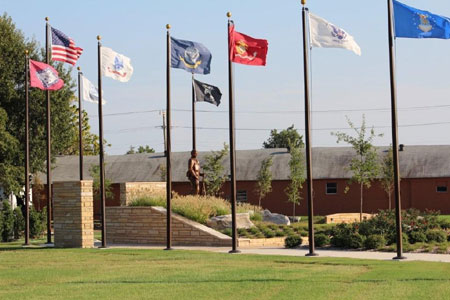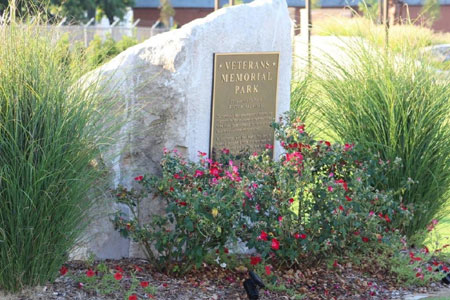 An article and additional photos regarding the Veterans Memorial Park can be viewed at the following page of the official web site of the City of Rector: http://www.rectorarkansas.com/veterans-memorial-park.html .
The Center for America's Wounded Veterans opened in 2009 and MG Barker presides as Chairman to raise scholarship money to educate wounded veterans and provide them with much needed medical support. For the past six years, the program has served over 1,500 wounded veterans returning from service in Afghanistan and Iraq. The Center is also proud to report there have been no suicides among the veterans in the program.
MG Barker is also co-founder of Helping Hands Foundation in Rector, AR, helping local school children, and he serves on the Foundation Board of Mutual of America in New York City. He also looks forward to his continuing participation in our Association.
---
Visit to Grave of CPT Eddie Grant, 307th Inf. Regt., 77th Inf. Div.
Capt. Eddie Grant, as a member of the 77th Infantry Division, and a former professional baseball player, fought in WWI. The picture shows friends of our Division visiting and placing our small 77th Infantry Division flag on CPT Grant's grave at the Meuse-Argonne cementery in France.