Director News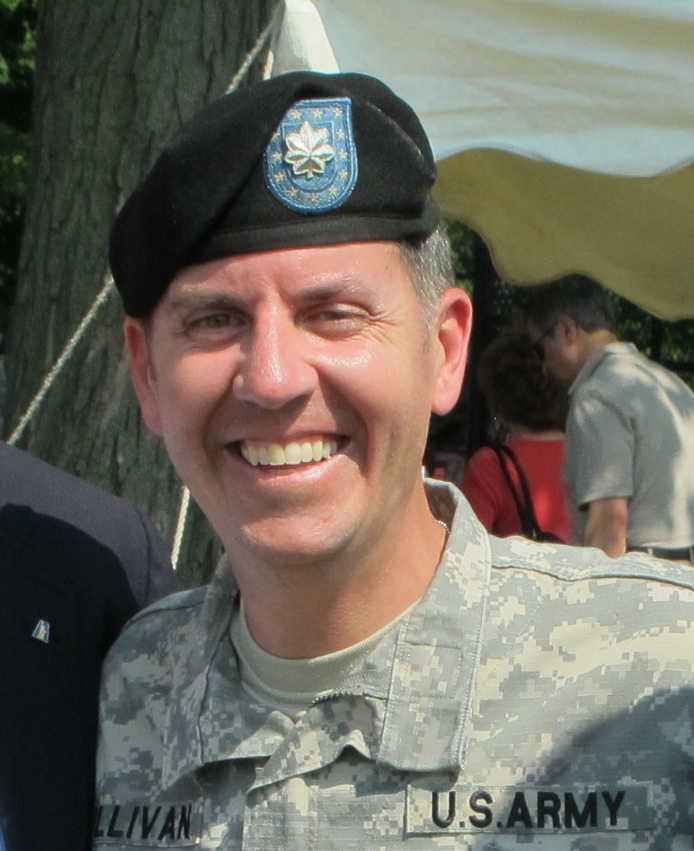 From January to November 2015, a Director of our Association, LTC Thomas P. Sullivan, Commander, 389th Command Sustainment Support Battalion, 77th Sustainment Brigade, led elements of the 389th CSSB on a deployment to Afghanistan to assist in the return or dismantling, or turnover to the Afghan Armed Forces, of U.S. military equipment and installations in that country, and to provide logistical support to the U.S. and coalition military personnel who remain in Afghanistan as part of Operation Freedom's Sentinel.

LTC Sullivan received his commission as a 2nd Lieutenant in the Army Reserve through the Reserve Officers Training Program in 1993. After that, his assignments included the 1179th Deployment Support Brigade, then the 436th Movement Control Battalion, 77th Regional Readiness Command, 623rd Transportation Company, 773rd Transportation Company, the 1185th Deployment and Distribution Support Battalion, and the 77th Sustainment Brigade. He assumed command of the 389th CSSB in August 2014.

He previously mobilized in 2003 with the 623rd Transportation Company in support of Operation Enduring Freedom (Afghanistan), deployed with the 773rd Transportation Company in 2005 in support of Operation Iraqi Freedom, and deployed in 2009 with the 1185th Deployment and Distribution Support Battalion.

LTC Sullivan's awards include the Soldiers Medal, Bronze Star Medal, the Meritorious Service Medal with two bronze oak leaf clusters, the Navy Commendation Medal, the Army Achievement Medal with one silver oak leaf cluster, the National Defense Service Medal, the Armed Forces Reserve Medal with "M" Device, the Global War on Terrorism Expeditionary Medal, the Military Outstanding Volunteer Service Medal, Armed Forces Reserve Medal, the Army Service Ribbon, and the Army Overseas Service Ribbon.

He also received a Master of Business Administration degree from Mount Saint Mary's University in 1996.

Click here to go directly to our Photo Albums page, which contains links to separate Photo Albums on this web site regarding, among other things, the 389th CSSB Change of Command Ceremony held at Fort Totten on 10 August 2014, the 389th CSSB Farewell Ceremony held at Fort Totten on 4 January 2015, and the 389th CSSB Welcome Home Ceremony held at Fort Totten on 13 November 2015.

---
Your Association is pleased to announce that Command Sergeant Major Sammy C. Sablan, 77th Sustainment "Liberty" Brigade, has been elected as a Director. CSM Sablan has served in every enlisted leadership position from Fire Team Leader to Command Sergeant Major. His tours of duty have taken him through Ft. Benning, Ft. Lewis, Korea, Afghanistan, and Ft. Hood, Texas, amongst other duty stations. CSM Sablan recently served as TASK FORCE TIGER/8th Attack Reconnaissance Battalion, 229th Aviation Regiment Command during Operation New Dawn.

His military education includes everything from Infantryman, Advanced and Battalion NCO Courses, Drill Sergeant School, U.S. Army Sergeants Major Academy, and many others. He is currently pursuing his Bachelor's Degree with Wayland Baptist University.

CSM Sablan's awards and decorations include the Bronze Star with oak leaf cluster, MSM with third oak lead clusters, Afghanistan Campaign Medal, Iraq Campaign Medal, Korea Defense Service Medal, Combat Infantry Badge, Parachutist Badge, Air Assault Badge, and a host of other awards too numerous to list.

CSM Sablan is married to the former Gabrielle Marie Winterguy and currently serving on active duty as a Technical Segeant in the United State Air Force.

Your 77th Association is honored to add such a distinguished soldier to its ranks and we look forward to a long and rewarding relationship with CSM Sablan.
---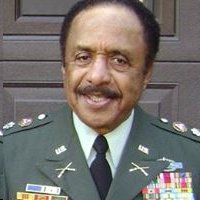 Lt. Col John W. Peterkin (Ret), a decorated war hero, having served in WWII, Korean, and Vietnam, was honored by the Queens Village Republican Club on 9 February 2014, as Veteran of the Year. A resident of Bellerose Manor in Queens, John lives with his wife, Ngoc Thi, and his two sons, 1st Lt. Sylburn Van Peterkin (now on active duty with the U.S. Army), and Capt. James Van Peterkin (Ret), who served valiantly in Iraq and was seriously wounded while serving there.

He served in WWII in June 1945 in the Pacific Area of operations and was released from active duty in August 1946. He then served two combat tours in the Korean War as a First Lieutenant from May 1950, an d was released from active duty in 1954. John was recalled to active duty in Vietnam where he served two combat tours between 1968 and 1973 as a U.S. Army Major. He was released from active duty October 1973. For his service in Vietnam, John received two Bronze Stars and two Air Medal awards.

For the next five years after active military service, John served with the NYPD as a Police Officer, Teacher in the Police Academy, and Criminal Investigator. His efforts with the NYPD affected over 5000 arrests resulting in a 70% conviction rate. Since then and up to the present time, John has been active in security operations on a management and executive level at various educational and business organizations.

He has membership in the Veterans of Foreign Wars, Disabled American Veterans, American Legion, Catholic War Veterans, Korean War Veterans, Knights of Columbus, Military Officers Association of America, National Association for Uniformed Services, 24th Infantry Division Association, Uniformed Services Disabled Retirees, and others. We are very honored to have John serve on our 77th Infantry Reserve Officers Association Board of Directors.

His broad educational background includes a BA from City College of New York, an MA from John Jay College of Criminal Justice. He is also a graduate of the US Army's Command and General Staff College at Ft. Leavenworth and a graduate of the U.S. Dept. of State Senior Advisor Course.

For a lifetime of service to his city, state and nation in his U.S. military and civilian careers in the City of New York, Lt. Col John W. Peterkin is highly deserving of the "Veteran of the Year" award and the praise and gratitude of all Americans.