DEPARTMENT OF THE ARMY
316th EXPEDITIONARY SUSTAINMENT COMMAND
99 SOLDIERS LANE
CORAOPOLIS, PA 15108-2550
---
FOR IMMEDIATE RELEASE
MR-003-24JAN2011
Contact: Maj. Kevin McNamara Duty Phone: 412-523-1478 Email: ESC316PAOFTS@usar.army.mil
MEDIA RELEASE:
Local Army Reserve Brigade Prepares for Deployment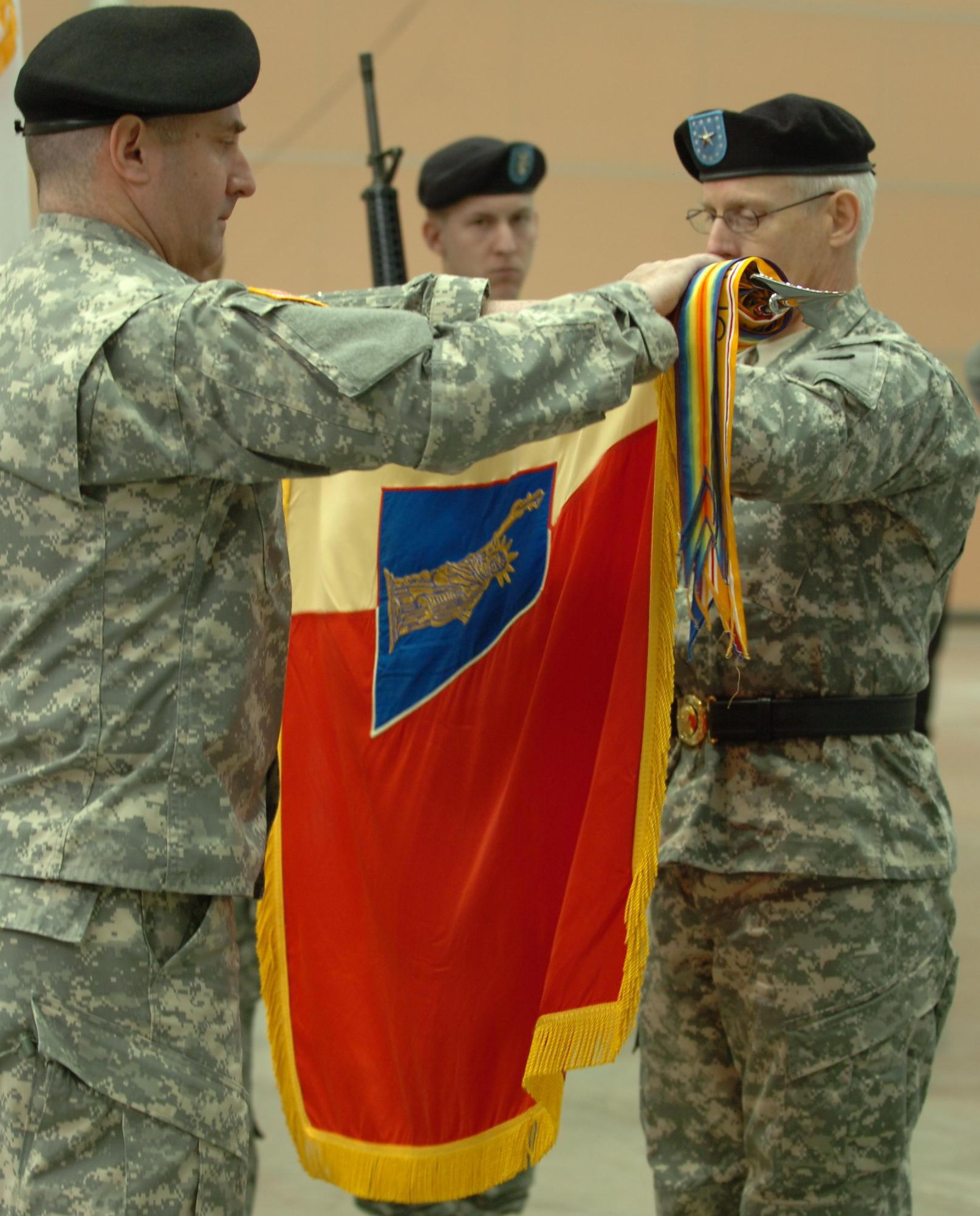 JOINT BASE MCGUIRE-DIX-LAKEHURST, NJ (Jan. 24, 2011) – Over 200 Army Reserve Soldiers from New Jersey, New York and Pennsylvania participated in a deployment ceremony here yesterday. The 77th Sustainment Brigade is the last U.S. Army Reserve sustainment brigade scheduled to deploy to the Iraq theater of operations. Called Operation New Dawn as of Sep-tember 2010, the 77th will be handling all logistical support for the units currently in theater. Sustainment and support operations consist of providing food, fuel, ammunition, transportation and other logistical support to forces still serving in Iraq.
The ceremony was hosted by Brigade Commander Col. Stephen J. Falcone and Bri-gade Command Sgt. Maj. Nagee Lunde. The reviewing officer was Brig. Gen. Peter S. Len-non, 316th Sustainment Command (Expeditionary) Commander. The 77SB is one of seven brigades that make up the 316th ESC. Headquartered at Joint Base McGuire-Dix-Lakehurst in New Jersey, the 77SB has been training here since Sept. 2010.
The 77SB traces it's roots to the former 77th Infantry Division which fought valiantly in World War I and World War II. Known as the "liberty warriors", the 77th continues the historical legacy of the division by wearing the "Statue of Liberty" patch on the left sleeve.
During yesterdays' ceremony, Falcone said, "The intent of today's ceremony is to show Families and Soldiers that we're in a phase in our mobilization and deployment where we're now saying goodbye. We are saying goodbye to Family and friends and casing our colors." As part of the ceremony, the 77th cased their historical colors for all to see. The colors will be un-cased upon arrival in theater.
Falcone, a native of Massachusetts, is a civilian employee of the Department of the Air Force at Hanscom Air Force Base, Mass. He is deploying to Iraq for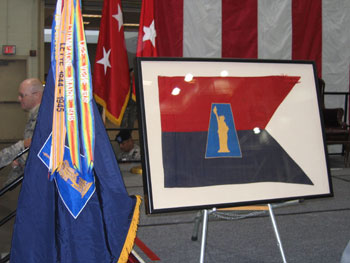 the first time. He was commissioned through the Army ROTC program at the University of Rhode Island in 1983. He is a graduate of the U.S. Army Signal Officer basic and advanced courses. He also completed Command and General Staff College.
The ceremony was attended by over 200 Family Members and friends. Congressman Jon Runyan, (R-Mount Laurel) of New Jerseys' third congressional district also spoke. Runyan represents Joint Base McGuire-Dix-Lakehurst in the U.S. House of Representatives. He is a member of the House Armed Services and Veteran Affairs Committees. Other attendees in-cluded Maj. Gen. Glenn K. Reith, Adjutant General of the New Jersey National Guard and Col.(P) Gina Grosso, Commander, Joint Base McGuire-Dix-Lakehurst and 87th Air Base Wing .
JOINT BASE MCGUIRE-DIX-LAKEHURST, NJ —Col. Stephen Falcon (left) rolls up the 77 SB unit colors in prepa-ration for movement to Iraq. Falcon is assisted by Brig. Gen. Peter S. Lennon, Commander, 316th ESC as the col-ors are about to be cased. (Photo by Sgt. Allyson J. Parla, 316th ESC HQ's Public Affairs Office)

Story and Photos by Sgt. Allyson J. Parla
*Headquartered in Coraopolis, Pa., the 316th Expeditionary Sustainment Command (ESC) has command and control of seven major subordinate commands (MSCs) and two direct reporting units (DRU) that com-prise a total of 120 units with approximately 10,000 soldiers. The stateside mission of the 316th ESC is to provide command and control of Army Reserve combat service support units (logistics). When deployed, the headquarters provides command and control of sustainment units for a combatant theater commander. The 316th ESC was the first modular logistics command sustainment deployed to a combat zone when it deployed to Iraq in 2007-2008. The 316th ESC commands all Army Reserve logistical units from Virginia to Maine. In 2009, the 316th was awarded the Meritorious Unit Citation (MUC) for distinguished service in the Iraqi theater of operations.